LATEST COMMERCIAL NEWS:
We have several substantial orders to complete over the next 3 to 4 months. Due to our age (in the 70's) we have decided that when these orders are completed we will totally clear the store/workshop of all items including radios/test eq/spares/cores/PTFE wire etc etc. We are well over stocked with many thousands of items and we will start to list the stock at giveaway prices starting in October on the special offers page (mainly collection only otherwise we will be packing/shipping for years). Thank you for your business over many many years. Janet & Geoff Brown
————————————————————————-
NEW SUNSPOT PREDICTION NEWS
AUGUST 4th:
SOLAR MAX MIGHT COME A YEAR EARLY: Solar Cycle 25 is heating up faster than expected. The latest sign may be found in sunspot counts from July 2021. Continuing a trend that started last year, they overperform the official forecast: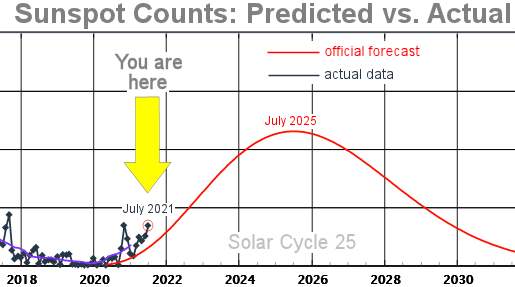 Issued by the NOAA/NASA Solar Cycle 25 Prediction Panel in 2019, the official forecast calls for Solar Cycle 25 to peak in July 2025. However, a better fit to current data shows Solar Cycle 25 peaking in October 2024. This is just outside the 8-month error bars of the Panel's forecast.
July 2021 was a remarkable month. Solar Cycle 25 crossed multiple thresholds, including its first X-flare and, at one point, 6 sunspots on the solar disk. The last time so many sunspots were seen at the same time was Sept. 2017 (SWx archive). One farside CME in July was so strong it affected Earth despite being on the "wrong" side of the sun. A handful of other CMEs narrowly missed our planet……Coutesy of Spaceweather.com
New Commercial Universal Antenna Vehicle Mount
A mobile mounting system that will fit ANY vehicle and hold ANY antenna without drilling holes. Innovative dual suckers capable of supporting any HF antenna, fitted with bracketry to accept any HF or VHF antenna, the bracket can be adjusted in a vertical or horizontal plane for roof mounting or side panel mounting. Can be placed on any vehicle flat surface including steel, fibre glass and alloy in seconds. Earth bonding strap and coaxial feeder included. Many antenna socket options available including 3/8″, SO239, BNC etc.
Single or Multi Frequency Matching units for HF:
NO TUNER REQUIRED
Our NEW ultra low cost high quality COMMERCIAL matching units consist of single, dual, tri and quad cores, some of the cores are custom made and all wound with PTFE DEF STD 210 wire, matching/insertion loss is very low at around 0.5 db MAX. The cores are fitted into a UV protected enclosure that is resin potted, the enclosures below are custom made and IP68 rated. We offer SO239/BNC/TNC or "N" type sockets. Power levels up to a maximum of 125 watts pep (this is what the commercial radios are capable of) although we do manufacture higher power levels for special orders. Top quality, low cost and no compromises, stainless steel line and mounting supports. Heavy duty lightweight enclosures and heavy duty high power units, we can manufacture single frequencies, or multi frequencies or ranges between 3 to 18MHz to suit your requirements for day/nightime operations. MOQ POA.
New IP68 rated UV protected enclosures with stainless steel fittings
Commercial sales only: MOQ: Prices from £125
New IP68 rated UV protected enclosures with stainless steel fittings
A large range of power options are now available using single, dual and multi core custom made ferrites as below, these units have been extensively tested for many hours using ALE, DATA and SSB transmissions.
New mix cores Ni/Zn F14 types
NEW DAY & NIGHT UNITS HFD & HFN
NEW DEVELOPMENT: Single or multi core (depending on power requirement) silver plated PTFE wound hybrid matching units, 2 models for day or night time operation, uses single 25 mtr line with near flat response over 7 to 18MHz and 3 to 14MHz @ MAX 0.5db insertion loss, commercial quality, SO239/BNC/"N" sockets, IP68 resin potted enclosure, 50/125/200/400 watt pep versions, stainless steel back support hook, stainless steel line strain relief, spring loaded connector. These are the 1st batch of samples in the IP68 rated enclosures made for overseas commercial users. Models below HFD (7 to 18MHz) and HFN (3 to 14MHz). Commercial sales only: NO TUNER REQUIRED, LOW COST, MOQ Prices from £125.00
ABOVE: New hybrid multi core unit offering superb matching for day/night operation on commercial frequencies. 0.5db loss @ 3 > 14MHz and 7 > 18MHz. 50 Ohm matching
ALL UNITS ARE FOR COMMERCIAL SALES ONLY: MOQ
2 New models HFD and HFN
—————————————————-
Custom made RG316 PTFE Coaxial leads to BNC/"N"/PL259/SMA
New! Commercial mini matching units, can be built/supplied for 3 > 18MHz wideband (see sweep above) or just as a 49/1 single/multi frequency unit, ultra light at just 100g, fitted with mini BNC or SMA sockets, dual, tri and quad core versions rated at 50 w pep, resin potted, leads made up with RG316 PTFE coax. Superb for QMac units. Prices from £150.00 including coax leads.
Overseas commercial sales only
New commecial enclosures arrive, resin potted, PTFE BNC, SO239 or "N" type sockets, UV protected, new lower price, and the highest quality.
THE ABOVE UNITS ARE FOR OVERSEAS COMMERCIAL SALES ONLY: MOQ
Commercial enquiries email please use sales@rfcomms.co.uk
or email:g4icd@btinternet.com
COMMERCIAL ENQUIRIES WELCOME:
Non commercial activities: TX500 QRP Transceiver
Contact us HERE