THE ICOM IC-705
QRP PAGE
DISCOVERY TX 500
Peli-case arrived
A new waterproof case for IC-705 arrived (30/9/21) and the IC-705 is now installed. The bezel had several marks on it so I used some fine wire wool and beeswax to clean it up: Space at front for Mic/feeder/antenna, BNC, DC connectors, USB, Speaker/Mic etc. 
---
---
September 2020
The Icom IC-705 arrives in the UK and USA
What do you get with it?
It comes with fused DC lead, Mini Mic (it's not an option like Elecraft), BP272 battery pack. The DC plug is a little odd, I have several 5.5mm/2.5mm dc plugs but they do not fit most of the QRP radios I have, however, after extensive searching I have found some that do fit and have made up some fused leads for the 705 and other QRP units.
No Tuner?
It does not have a tuner/matcher, but why use one? use a resonant antenna, a single or multi band unit, low cost and superb for /P use.

If you really do need a tuner/matcher then here is a good one but hunt around for a good price $150? this one cost me £120.00 that's half the price of the Elecraft one, the mAT-10 30 watt tuner with internal power and charger that lasts for weeks.
The mAT-10 auto tuner 1.8 > 50MHz, supplied with FT817/818 control lead but fully automatic with any transceiver, just push the button!
Base Charger and spare battery packs
There's plenty of base chargers and spare battery packs available at really good prices, the base chargers (BC-202 genuine Icom made in Japan) are about £20 ($25) and I picked up 4 spare new battery packs for about the same price. The chargers and battery packs are used on many other Icom products. You get about 3 hours of use from the supplied pack (TX/RX). A Chinese copy of the heavy duty lithium pack BP-307 (3300ma) is now available at around £35 ($40)
ANTENNAS (LOW COST & LOTS OF IDEAS)
USE RESONANT ANTENNAS FOR QRP
There's lots to choose from, a mobile single bander on a small tripod with a radial, a multi-band tapped mobile vertical on a tripod with a multi radial system,
a resonant end fed (below) using a 49/1 matching unit would give you multi-bands from one piece of wire and NO TUNER OR COUNTERPOISE NEEDED, COST? around £15.00 > £30.00 plus the wire.
A perfectly resonant end fed using a 49/1 matching unit would give you multi-bands from one piece of wire and NO TUNER NEEDED, COST? £15.00 to £30.00, just add a half wavelength of wire for any single frequency or 20.5 mtrs for 7/14/21/28 as per sweep above & below, so why would you want to pay £80 to £150 for a Ham shop sold version unit? when you can make it yourself.
ABOVE:

7MHz: 1.2/1:
14.1MHz

1.18/1:

21.1MHz

1.22/1:

28.5MH

z 1.18/1 with great bandwidth on each band and LOW COST!
ABOVE: Using some of the techniques that are used on commercial matching units a custom made antenna can be produced offering even more amateur bands.

3.5/7/14/18/21/28MHz @ 1.5/1 vswr
You could make your own /P kit at a very low cost. A Quality 49/1 plus make a throwing line/weight/spool, 20.5 mtrs of kevlar line/spool plus 20 mtrs of PTFE RG316 coax all in a nice Cameo zipped case and off you go.
An Ultra Lightweight & Low Cost 49/1 5 Band Resonant Version.
The antenna is resonant on 80/40/20/15/10 and has 1 inductor in the kevlar line rated at 50w pep. The length is around 22.5 mtrs. A shorter 3 band version (40/20/10) is currently in use using a 34 micro henry coil in the line and is 12 mtrs in length.
Above: The 34 micro-henry miniature coils for the 12 mtr long 7/14/28MHz. Just 60mm (2 1/2″) long and fully weatherproofed.
The 110 micro henry miniature coil 130mm long (5″) offering resonance on 3.5/7/14/21/28MHz @ 22.5 mtrs long.
Below: Custom made cores used by RFCOMMS for many applications
from 1/1 units through to 80/1 matching transformers
Antenna Bracket
A smart bracket for £22 > £25 ($30) that fits on to the radio and will then accept a tapped multiband HF antenna and radial or ground plus you can add a diplexer to the bracket so you don't have to change antenna connections over, a neat idea!
Bracket fits to grounding bolt on IC 705
Low cost stand options below for many QRP radios including the Icom 705
You can pick these up for £15 > £20 or make one in an hour or so, 2 end pieces and some M5 studding with nuts/washers
External Lithium Polymer (Li-Po) Packs 8, 10 & 22 Amp
Ultra lightweight, handheld, high current, Li-Po 12 volt units available in 8,10 and 22 amp packs that you can carry with ease and can be solar charged or 12 volt dc charged as they have BMS charging/protection circuits built in. These units are just superb and have been used on many African commercial portable radio systems that I have been involved in. Ideal for lots of portable applications including lighting etc. UN Certification and can be transported in aircraft. The 22 amp pack is only 1.25 kgs.
Hard Case
There are several nice protective cases around on eBay for the IC-705, the one below has enough room for the Radio, Mic and spare batteries etc, cost around £8. ($10 > 12)
Below: A "screwdriver" mobile style of antenna on the 705 bracket, slide it up or down for spot on resonance (radial required)
Audio Tip: I like the speaker on the main unit but as soon as you plug in the speaker/mic the internal speaker is disabled, don't plug in the 3.5mm jack from the Mic, you then have PTT tx and tx audio via the 2.5mm plug but the receive audio comes out of the main speaker! nice! I would have thought that the 3.5mm plug would carry AF out (Mic speaker) and AF in (Mic), but unplug it and see what happens, cannot find any mention of it in the manuals. Interestingly the 3.5mm plug has 3 poles but it seems it only controls the internal speaker as all the functions on the MIC (buttons up/down and "A" + "B") still work when it is un-plugged.
The 2 Icom IC705 units on the left
GEOCHRON 4K: Having just installed a system on a cruise liner I could not hesitate in buying one for myself, well the Wife bought it for me really as an early Christmas pressie.
It is a great tool using the mega levels of layers that can be overlaid including orbiting Sats plus wx etc etc and now Ham Radio has been added in 2021.
ANOTHER ADDITION
The Icom IC-705 runs on external dc as well as its own internal battery pack, however, it likes 13.8 volts dc for a full 10w output which when using it /p with a 12 volt car battery is not 13.8 volts! so here is a low cost noval idea and works very well. Our friends in the Far East produce several "BUCK VOLT BOOSTER MODULES", these low cost modules can increase or decrease the output voltages (5 to 30 volts dc) at up to 30 amps by the use of a 100Khz inverter, there's many types and cost of some are under £2. I have put together a unit which is rated at 4 amps (current protected and crowbar over volts protected) and is ideal for the IC-705, it also has a secondary smaller unit (£1) for 5V USB so you can charge your phone or other USB gadgets. A nice unit for under £10 and no noise generated by the 100KHz invertor.
Below: USB 5 Volt socket, 5.5 mm dc output socket (fused) and dc +/- fused connectors
Variable dc outputs from 5 to 30 volts @ 4 amps and just putting together the 30 amp 5 > 30 volt dc version which has separate digital in/out voltage and current meters……..more later.
Currently testing multi band antenna for limited space, a simple solid die cast unit that will hold 4 sets of Hamsticks, cheap to build using low cost CB mounts and a small camera tripod this unit was under £50 to make. Self selecting just like a fan dipole with very little interaction between bands. Great for /P use
 Use one band or 4 bands, make your own Hamsticks or buy 2 for the same band, it works great and is much better QUALITY than the one sold in the shops for £150 with no Hamsticks. The box is a Hammond Octagonal unit (£12.00 Rapidonline), CB studs (£3 Moonraker), mini 4 mtr tripod £12 on Ebay. It took just one hour to drill out the box, insert and wire up the 3/8″ sockets and drop it onto the 4 mtr mini tripod. Simple, cheap and works very well. No earths or grounds as you are using shortened 1/4 wave elements (2 per band) = resonant 1/2 wave. The SO239 socket for the coax is underneath
Such a quick simple build, the 4 grounded sockets are connected together and go to the solder tags on the SO239, the 4 isolated sockets are also connected together and routed to the SO239 centre connection. Made a few of these units for local guys that have no metalwork tools, drills or skills.
Above: On the right are the 4 grounded 3/8″ sockets, on the left are the 4 isolated 3/8″ sockets, all 8 go to their respective connection as per picture. 
Late June: "ES" nearly every day on 28MHz, the new bicycle wheel loop works well, just 5w with the IC-705 wkg lots of Eu on ssb, great fun have a go! G0WFQ Malc now has this FS.
Super sweep on 28MHz with a bike wheel, lots of Eu dx wkd, great fun, build one and have some fun.
An old bike wheel with the spokes removed, cut where it was joined together, drill a hole in each end, nut/ bolt the ends with solder tags and locking nuts then fit it to a block of wood or something heavy, add a couple of variable caps' (50 pf for in line matching and a 67 pf butterfly (wide spaced if using 100w) across the 2 loop connections) and off you go! Just an hour to build and wkd stacks of stations on 28MHz. Tested at 5/50/100 watts, even used it indoors by the window and wkd 7X on 28MHz. Whilst the bandwidth is narrow (50KHz @ 1.5/1 +/- 25KHz off centre frequency) it shows it's Hi-Q but with a quick retune of the butterfly cap' it can be quickly down the CW/FT8 end on 28MHz. DO NOT TOUCH THE LOOP WHEN TRANSMITTING AS IT BITES !!
If you want to make the unit operational on other bands then remove the wheel and replace it with a wire loop, square, round, triangular or any shape you want: Have some low cost fun on the radio!
———————————————————————————————
ICOM  IC-705 AND DISCOVERY TX 500
ANTENNA KIT IDEAS: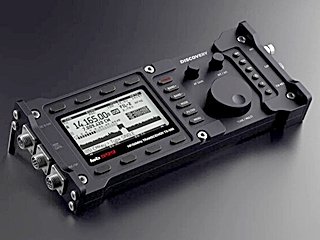 Some great kit ideas for the Icom IC-705 and the TX500 (LAB 599) QRP 10w radios. Lab599-TX500-User-Manual-EN-v1.11.02-10.2021
BOX 1: Kit includes: 49/1 superb matching unit (25 w pep), 21 mtrs of Kevlar line plus throwing line and weight, plus a cover sleeve to protect the TX500 Radio which will fit in the case as well.
BOX 2: Houses a fold up 12 volt solar panel with charger/regulator for your Li-Po + 25 Mtrs of RG316 on spool fitted with BNC connectors (soldered not crimped)
Optional idea:
Li-Po battery kit including safety charging bag.
TX 500 all set up and ready to go /P. Super radio and has to be the "SDR RADIO" of the century, just 21mm THICK made from a solid block of aluminium and machined out, splash proof, dust proof and solid as a rock. 10w HF > 50MHz all mode (IF YOU USE 13.8V DC NOT 12VDC) and fits in a protected sleeve and case above. Worked stacks of stations today (30/9/21) with great reports on just the 10 watts and a 49/1 matching unit + 21 mtrs of kevlar wire, now have 2 of these new radios for tests. 10/10/21 left it running whilst working on a big antenna order and W4/W9 etc were heard/wkd on 28MHz SSB………..USA also hrd on 27.940MHz FM. WOW!
A New case that is super for the Discovery 599
Mic and DC lead in back pocket. £7.50 on eBay
I ordered 4 protection plates for the 2 TX-500 units I have and ended up with 4 sets so have 2 sets spare. Obviously my mistake when I placed the order and paid. Anybody local to Southampton UK can have a set free. Collection only.
---
---
THE ANSWER TO PORTABLE ANTENNAS?
There's lots of ideas out there for/p antennas, Buddiepoles, Loops, mobile Ham sticks with radials, double Ham sticks (a better idea), unfortunately there's not many efficient ideas for QRP, you need RESONANCE, no tuner/matcher antennas and here's a superb idea that works for the Commercial users who operate in some of the most hostile conditions on the planet.
Installation when out /P is always a problem. To get antennas up in the air is always a problem especially if there's no trees to throw a line over the branches and haul up something that is efficient, so here's an idea which is MUCH lower in cost than most shop sold Ham Radio antennas on tripods etc.
On the beach, in the park, on the summit, anywhere, this idea will offer a low cost multi band antenna. You need a couple of the telescopic poles like the ones below, 7 or 8 mtr ones are good with 10mm top sections that don't bend that much and are stronger than the 10/12 mtrs versions, and the cost is lower (£20 each with a 1 mtr ground stake), then you need to build or buy a 49/1 matching unit (there's stacks around from £15 depending on the power you are using, also watch out for lots of junk non waterproof versions out there) and a 21 mtr length of wire (42 mtr if you want 80/40/20/15/10 + WARC and double the mast spacing distance), total cost? £70 max? which is better than Mag Loops, Buddiepoles, Tapped coils etc at £500 as you have a 4 band no tuner perfectly resonant efficient halfwave end fed antenna.
Knock about 50% of the 1 mtr stake into the ground and drop one of the poles onto it, walk about 22 mtrs away and fit the other pole the same, fit an ultra lightweight 49/1 matching unit and wire to the top section of pole # 1 and push/twist up in the air, go to the other pole and attach the lightweight wire to the top using some cord so it can be adjusted for resonance to 7MHz, push the pole up and adjust with an antenna analyser or IC 705 eg. You now have a superb resonant antenna giving 7/14/21/28MHz for a cost of a maximum of £70? or you can dismiss the masts and use a tree branch and save £40, so you have a SUPERB 4 band antenna for a max of £30. RESONANT!
Much better than a loop at £400+, much better than all these expensive tapped coil verticals on tripods at £500+ that need radials, much better than 9/1 un/un non resonant units (Tuner required), much better than 4/1 un/un vertical units that are non resonant (Tuner required), more wire in the air gives more radiated RF. Set up takes about 10 mins.
————————————————————————————————–
AUGUST 4th:
SOLAR MAX MIGHT COME A YEAR EARLY: Solar Cycle 25 is heating up faster than expected. The latest sign may be found in sunspot counts from July 2021. Continuing a trend that started last year, they overperform the official forecast: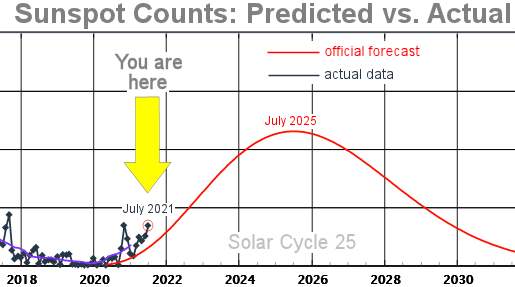 Issued by the NOAA/NASA Solar Cycle 25 Prediction Panel in 2019, the official forecast calls for Solar Cycle 25 to peak in July 2025. However, a better fit to current data shows Solar Cycle 25 peaking in October 2024. This is just outside the 8-month error bars of the Panel's forecast.
July 2021 was a remarkable month. Solar Cycle 25 crossed multiple thresholds, including its first X-flare and, at one point, 6 sunspots on the solar disk. The last time so many sunspots were seen at the same time was Sept. 2017 (SWx archive). One far-side CME in July was so strong it affected Earth despite being on the "wrong" side of the sun. A handful of other CMEs narrowly missed our planet……Courtesy of Spaceweather.com
TEST YOUR BALUN/UN/UN
There's some really poorly made baluns and un/un units appearing on the market usually due to cheap imported cores, would you know how to spot them? check them? test them?. Some of the 4/1 un/un units that I have seen recently are really disgraceful and sellers are charging massive amounts of money for them.
Firstly, stay away from anything that is painted RED, this is 99% sure to be an Iron Powder core and for impedance matching is a poor and inefficient core to use, so a code of practice is "if it is RED put it to bed". Many people copy other peoples mistakes, we have seen this for many years, so here is some help in testing and checking your un/un or balun.
In real terms you need test equipment to measure what is going on in the matching network, ie UN/UN or Balun, many people have an antenna analyser, some are lucky enough to have a spectrum analyser with inbuilt sweep generator and VSWR bridge to measure return loss, but what if you don't have any of those items? Interestingly you are on the ICOM IC-705 info page so maybe you have the IC 705? if you do then here's a pleasant surprise as you have an HF/VHF/UHF piece of superb test gear.
Many years ago Icom brought out the Icom IC 7100, I am pretty sure it was the first mass produced Amateur Radio unit that incorporated a VSWR/ANTENNA Analyser, then came the IC 7300 which also houses a fast wider bandwidth analyser, and last but not least the IC 705 which also has the same internal software analyser.
So, how do you go about checking your un/un or balun? all you need are a few 1 watt carbon resistors equal to the output value of your matching unit, ie: 100 ohms (2/1), 200 ohms (4/1), 300 ohms (6/1), 450 ohms (9/1) etc. Connect the test balun/unun to a piece of coax with a BNC plug on the other end, connect up the BNC to the IC 705, set the BAND you want to test the balun/un-un on and reduce the power level of the radio to 1/2 watt and then activate the SWR menu from the "MENU" button, make sure you terminate the balun/un/un under test with the correct value of resistor eg: 4/1 is a 50 > 200 ohm, so terminate the transformer with 200 ohms. Your now ready to go, press the "small white square" in the bottom left of the display and then press the PTT and you will see the VSWR results in steps across the display (info is in the operating manual). That's it, in practice you are looking for UNDER 1.5/1 across the bandwidth, if it is any higher than 1.5/1 then the transformer is not very good.
The example above shows the IC705 on 14MHz TX with the 1st portion on the VSWR display at the BOTTOM of the display (not the one at the top) shows a perfect match of 1.1/1 and just a "small yellow dot" to show where the reading is taken . On the right under the TUNING KNOB is the 4/1 un/un under test with 2 x 100 ohm resistors in series = 200 ohms. Keep pressing the PTT until you reach the end of the scale on the right hand side, then the VSWR test resets to normal RX.
The test was also carried out on 50MHz which again produces a near perfect match, the little blue bars are the VSWR reading which is about 1.15/1 on 50MHz and ZERO on 14MHz on the previous picture.
THE G4TPH MAG LOOP
There's been quite a few of these items for sale on eBay and other auction places recently from £30 to £80. Our business has made a commercial helical loop using Ni/Zn ferrites as a matching unit and does not require a tuner/matcher so I was interested in what Tom G4TPH had also built. I have seen an original Army loop using a single ferrite core for matching instead of the Faraday mini loop unit so the idea is nothing new.
I now have 3 of the units so will keep one/two originals and have a play with the other ones and do some comparisons.
Having put both 10 section units together (changing the overall pattern to a flat top/bottom on one) I decided to try something a little different from the conventional set up. Firstly I added 3 external SS teeth locking washers to each nut/bolt to get a really secure RF bond on every joint which also cured the slipping around of the Ali bars, I mounted the variable capacitor at the bottom of the unit and the coupling ferrite unit at the top and took several measurements which I stored in one of my RIGEXPERT antenna analysers (the best antenna analysers on the planet!).
The analyser sweeps were good on 7/10/14/18/21/28 MHz and are posted below, more later as we have to build a few test bits and bobs to look at RF radiation from the loop, initially, this unit looks good, lots of dx heard on HF even on 160 mtrs, current set up sweeps below. The RSGB/PW magazine articles do not have any sweeps of the antenna and I am impressed at the bandwidth below but it could mean one of two things! as I ran #2 unit without the biting ss washers and it was totally different.
Built the RF Current Meter (1942 Air Ministry Thermocouple meter boxed with SO239 on each  side) and after modifying the matching cores I have an increase in RF current and RF radiation from the loop.
3/10/21: October, probably the best dx month of the year, yesterday 28MHz was superb, mid afternoon in the UK brought in 5B4/ZS1/6/VP8 (Falklands)/PY/CE and even the USA all on 28MHz, a great day with the Icom, managed to work several stations with just the 10w and a 49/1 unit.
9 & 10 October: Good openings but very busy with commercial work, 28MHz open PM with ZS/VP8/ZD7/PY/FY/ W4/7 (NC)/W9 Ohio ssb, also VO1FOG great signal. 27.940 was also active to W4 on FM CB.
17/10/21: Good opening to Russia on 28MHz @10.00z >, wkd RA3RCL (Moscow 3000 kms) with TX 500 (10w 57/57). Hrd UA3AHA/RA4FUM. Later in the day: 3DA0/FR4/EA8/PY lots very strong/PJ2/J5 a really good day on 28MHz.
27/10/21: Superb opening on 28MHz yesterday (26th), VK6NC into EU/UK for nearly 2 hours on 28MHz (up to S7 with me), then 9J2BO/ VE/W, a great day and more to come, just look at the Sun today.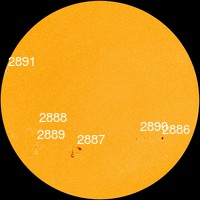 30/10/21: 9.00Z > Mega solar flare etc creates F2 OPENING: DX 28MHz UA9/DU/DO/VR2 x 2/BA/HL/JA/VK3/4/6 regions/KG2/FR4 in for 2 hours, great YL operator! – Asiatic Russia/Japan/S Korea/China/Mongolia/Hong Kong/Reunion Is/! all S5 TO S9+ what an opening during CQWW SSB: 16-00z PY/LU/CE/PJ stacks of activity on 28MHz…………..what a day just like a peak of a cycle.
31/10/21: 8.00Z > Lots more activity on 28MHz from VK/VR/BA/DU/4Z/9G/ and many more plus W5/9,and big Au in TF last night.